Carpets are exellent insulators against cold and heat and are one of the main factors in the beauty of homes interior decoration.  Through them, we turn our home into a safe, cozy and comfortable place.  However, carpets may slide, move or ripple on the floor.  When your carpet slips, it is not only annoying but it can be hazardous and lead to injuries;  Once you have chosen the right carpet for your space, you need to make sure that the rug stays in area rug. Have you ever wondered how to keep your carpet in place and stop it from Slipping the carpet?  In this article, we will check the causes of this problem and mention solutions to prevent slippage without damaging the fancy machine-made carpet.
?What causes carpet to slipe
Carpet sliding depends on various factors.
An environment where the floor is made of stone or ceramic and a carpet is spread over it will cause it to slide.
The density of the texture and the weight of the carpet are also effective in its sliding. The lower the density and weight of the carpet, the more likely your carpet will tend to move.
The smaller the dimensions of the carpet, the greater the possibility of the carpet sliding.
If you lay a carpet on top of another carpet or deep pile rug, it will cause the carpet to ripple and slip.
---
| | | | | |
| --- | --- | --- | --- | --- |
| How to stop carpet linting | | The best-selling machine carpet | The relationship of density with the price and beauty of the carpet | |
Know more…
Solutions to prevent  carpet from slipping
In this section, we are going to introduce you simple, cheap, convenient and safe solutions to prevent carpets from sliding. By doing these suggestions , you will prevent your family and the loved ones from possible incidents and dangers ,easily and in the shortest time . It has long been believed that an ounce of prevention is better than an ounce of cure.
Hot glue
Using hot glue is a simple and cheap solution. Flip your carpet back over on to the back side and apply hot glue to each corner and quickly flip it back over to the front side before the glue dries. In this way, you can easily prevent it from slipping.
Carpet stopper or brake
These products can be found in various types in the Iranian markets. Carpet brakes that are made of flexible silicone are better in quality and more efficient compared to other solutions. In addition, it has an adhesive coating on both sides and they attach to the corners of your carpet easily without any trouble. Just be careful not to stick it to the roots of the carpet as it can damage them!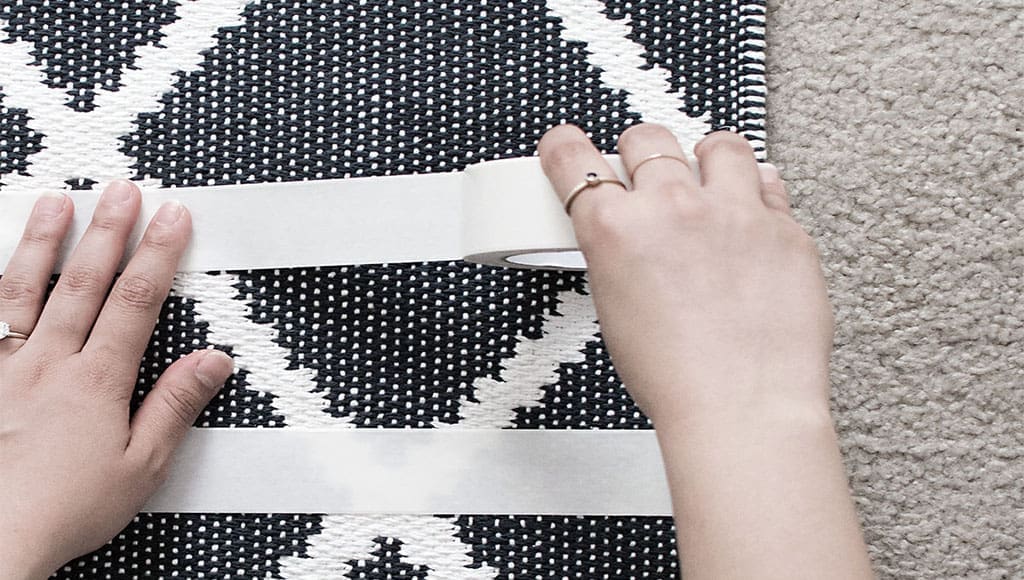 Types of carpet brakes
Pieces: It can be found in varying designs and sizes in the market and you can buy as many as you need and attach  them in different parts of the carpet.
Metric: It is available in the market in metric form and they give you the same amount as you want. In other words, you get it in metric form, so using this type of brake is affordable and cheap.
Serrated: more suitable for use in stairs.
Advantages of carpet stopper or brake
Using a carpet brake has many advantages, for example, it will not damage your carpet at all. It does not create stains or any other effect on ceramic, laminate and parquet. The price of carpet brake is cheap, also it is easily washable and reusable if necessary.
 carpet clip
Carpet clips are made of metal and there is glue in some parts of it. We use these clips when we want to fix carpets for stairs, high traffic areas, thin carpets, rolls or red carpets.
PVC layers and nets
You can use a special layer such as sponge liner or PVC mesh to prevent your carpets from slipping.  You can apply these layers under your carpet.
 Placing heavy items
A cheap and easy solution is to place heavy stuffs such as sofas, tables, bookshelves, etc. on the carpet. Of course,We must be careful not to damage the carpet
 Non-slip pad
Using a non-slip carpet pad is one of the most common and practical ways to stop a carpet moving. It is also very reliable and you keep your carpet in place easily and without any damage. These pads are usually made of foam or plastic and you can place them under the carpet. It is worth mentioning that before buying a pad, you should be sure to find out about its quality, the type of glue and its standard so as not to damage your carpet.
---
The best carpets of Aarand
 final word
Carpets take pride of place in the life of Irainians, and we all have at least two or three carpets in our homes. With the change of lifestyle in today 's world and the use of ceramic, stone, laminate and parquet floors, over time we saw the problem of slipping and sliding of our carpets. Therefore, we were trying to find a safe and convenient way to prevent this from happening, because there are children, babies, or the elderly in every home, and when they walk on the carpet, There is a risk of falling and breaking or irreversible damage for them. We must apply solutions to prevent these unfortunate events. In this article, we have tried to introduce easy and standard solutions to you.
---
The newest carpets of Aarand