Have you ever had the experience of buying the most stylish and expensive furniture or carpet? But after putting the things in order, you find out that the new decoration is not your favourite, Sometimes ، you may enter someone's house and get a good sense of decoration style but When you concentrate on details, you will notice that neither their furniture and carpets nor other accessories are  So what is the secret of this beauty and good feeling? Yes, you figured it out, the secret is in harmonizing the items with each other.  Some people wrongly think that having a house with a special and elegant decoration is only limited to buying stylish furniture or spending a lot of money to buy other interior decoration items. In this article, we will explain some key points for matching carpet with furniture and curtains. By reading this article, you will realize how you can easily make your interior decoration more stylish and beautiful by lowest cost.not more expensive and stylish than yours.
matching carpet with furniture and curtains
picking the color of your furniture suitable with carpet is one of the most important parts of a house interior design.Therefore, you have to be very careful to select these two.The most important thing for matching with the color of your carpet is furniture colors. If you are looking for a beautiful color compatibility, and creating a comfortable space in the interior home decoration, you must follow a series of actions. In addition to being a cozy flooring for home.
carpet is also an accessory that makes your reception or living room more stylish and charming. But unfortunately, you can not certainly buy a carpet accidentally without research! The desired carpet must be in harmony with the furniture and other household items, the carpet plays a very important role in the decoration. In the following, we will mention the important points about this issue.
Matching the color of carpet with furniture
Carpet layout is very important in decoration, if you are one of those people who are a fan of minimalist and simple interior decoration; your carpet should be the same color as your furniture. gray sofa go well with gray carpets.It is better to pair a gray sofa with a carpet that is exactly gray or a little darker. For more diversity, you can choose other home accessories such as sculptures, lampshades, etc. contrary to gray color.
Unlike modern carpets, Iranian and traditional carpets usually have busy and energetic colors like red, orange, purple and blue. If you want to choose furniture that coordinates exactly with these colors, it will be a little difficult. A good idea for such carpets is to choose furniture with neutral colors
Paying Attention to the geometric shape of the carpet and furniture
There are various carpet shapes in the market.Carpets in the shapes of circles, squares, ovals carpet or even unusual and special shapes. You cannot choose a carpet without paying attention to the style of your furniture; Rather, before choosing a carpet, you should consider a series of tips to match the shape of carpet with the shape of sofa.
For example, if your furniture has a rectangular or square shape; You are free to pick the best carpet shape. This means that any shape of carpet will be in harmony with square or rectangular furniture. If your sofa or dining table is circular, choosing a square carpet for such furniture is wrong and it is better to choose a round carpet.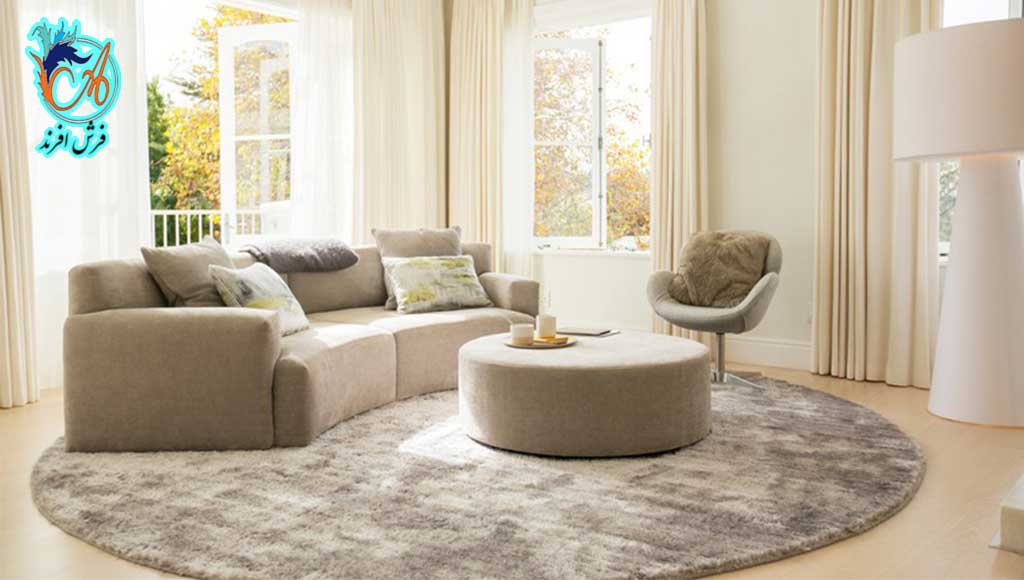 Paying attention to the size and dimensions of a machine made carpet
Maybe few persons consider this point; But the size of a machine made carpet plays a key role in harmonizing with other decoration items. Before buying a carpet, you should pay attention to the size of the living room for which you want to buy a carpet.The carpet should be placed exactly in the middle of your room and furniture. So knowing the size of furniture and room space is very important. For example, if your home is small and the living room is not too big, a 9-meter carpet is the best choice for you, because this size of carpet is matchable with any furniture. A 12-meter carpet is also suitable for a large living room.
---
از اندازه فرش بیشتر بدانید
Paying attention to carpet designs
One of the key points in matching carpet with furniture and curtains the designs of each of them. If you have a traditional carpet with busy designs and colors, it is better to use plain furniture fabric and as much as possible, your furniture should be monochromatic.If your furniture is bicolour, do not use patterned fabric. The best idea in this case is to pick plain fabric for your sofa.
Sometimes it is possible that your carpet and furniture are not match together. In this situation, to make your home decoration look stylish and to create harmony between sofa and the carpet, select cushions that are in harmony with the design or colors of your carpet.
Matching carpet with curtains
Sometimes its impossible to match the carpet with furniture, for example, you have bought your furniture before the carpet and now it is hard for you to match their color. In such a case, you can match your carpet with other accessories and room elements. It means, instead of concentrating on harmonizing of carpet and furniture, consider other elements Or signalize your carpet as a feature, not only just matching it with surrounding environment. Curtain is another home accessory that we can match it with carpets. In the following, we will mention some points about matching carpet with curtains.
Important tips for matching carpets with curtains
Some people think that for matching a carpet with curtain, both should be the same color. the point is that this is a big mistake in interior decoration. Curtains and carpets of the same color will make uniformity and get boring overtime. If you are looking for a stylish and special decoration, it is better to consider harmony in their design.
If you are looking for patterned curtains, it is better that the size of curtain designs be smaller than the carpet designs. or that in matching curtain design with carpet, the designs should not be similar to the carpet at all. It is better for the curtain designs to complement the carpet designs; It means that they would not be completely copies of those designs.
final word
 In the end, its necessary to mention that you have to keep everything in balance. For example, if your carpet and furniture have busy and patterned designs, it is better to pick curtains that have plain or  low patterned designs .In this article, we tried to explain the key points of matching carpets with furniture and curtains.
.